Brake Repair near Me

From their solid frames to their driver-assist technologies, Volkswagen sedans and SUVs offer lots of safety features. Brakes might be the most important one of all, though, and they need maintenance and service just like any other part of your car. When you need brake repair near Little Rock, Benton, and Conway, schedule an appointment with Owens Murphy Volkswagen!
Most Common Brake Repair Services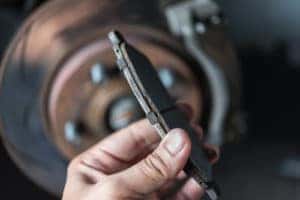 Your brake system features a lot of parts. Each one is essential to slowing down and stopping safely. The technicians in our service center are highly trained and prepared to help you stop on a dime. Some of the brake repairs they perform most often include:
Replacing Brake Pads
Inspecting Brake Lines
Checking Brake Fluid Levels
Repairing Cracked Rotors
How Brakes Work
Getting your brakes serviced is part of your routine maintenance. That's because it takes a lot of pressure and friction to slow your car down. Over time, that takes a toll on some of your parts. Eventually, a technician will have to replace them for you.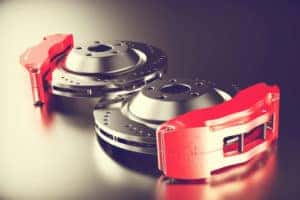 Reducing your speed starts with how hard you step on the brake pedal. Whether you're gradually applying the brakes or need to slam on them to avoid an accident, that pressure goes to the main cylinder. From there it pushes brake fluid through the brake lines and out to your wheels.
Each wheel features a rotor that spins while you drive. Just above that, there's a set of calipers. It's also where you'll find the brake pads. As you brake, the calipers press the braked pads up against the rotors. It's the brake pads' job to create friction. That friction slows the rotors down, which results in your car slowing down or stopping.
As you use your brakes, the brake pads wear down. They're designed to squeak loudly when they need to be replaced, so you always know when it's time for a replacement. As a result, getting new brake pads is just as important as getting an oil change or having your tires rotated. If you're still left with questions, don't hesitate to contact us today!
Signs You Need Brake Repair
Whenever you visit the service center, a technician will inspect your brake system. They'll look at how worn your brake pads are, inspect the brake lines, and check your brake fluid. It's ok if you aren't sure how long it's been since you had your brakes inspected. They actually have a few ways or telling you to head to the service center.
Brake Warning Light – Dashboard lights can indicate a problem with your brakes or your anti-lock braking system (ABS).
Squeaky Brakes – This well-known sound is there to remind you that your brake pads are worn down and need to be replaced.
Stuck Pedal – Low brake fluid can cause your brake pedal to get stuck.
Drifting – If your car consistently pulls to one side when you brake, there may be a problem with one of your brake lines.
Rattling Sound – Usually the result of a cracked or warped rotor.
Schedule Brake Service near You
Visit Owens Murphy Volkswagen when you need brake repair near Little Rock, Benton, and Conway. Our VW service center features an experienced team of technicians. They'll keep your brakes in good shape and help you get back on the road. Contact us to learn more or schedule service online.